Come for an adventure in Queen Elizabeth National Park. This safari lets you go for chimps trekking, experience an early morning game-drive, look for hippos during a boat-cruise and see a bit of life in Uganda during a village walk.
Day 1: Transfer to Queen Elizabeth National Park
Be picked up by your safari guide in the early morning to start your 4 day safari in Queen Elizabeth NP. Make a stop at the equator for some photo poses where north meets south and then continue on to reach areas with rolling hills and tea estates passed the Kalinzu forest as we descend the rift valley. Along the escarpment you have a magnificent view out over Queen Elizabeth NP. Arrive at Pumba Safari Cottages in the late afternoon and enjoy the sunset over the endless savannah. Overnight Pumba safari cottages
Day 2: Chimps trekking in Kalinzu forest and boat-cruise on Kazinga channel
Start the day with Chimps trekking in Kalinzu forest. An exciting walk in the forest that gives you the chance to enjoy the beautiful surroundings while trying to spot the chimps. After lunch go for a classic highlight, the 2hrs Boat cruise on the famous Kazinga channel at 3pm. The channel is 36kms long and links Lake George and lake Edward. From the boat you can see for example Hippopotamuses yawning, the Nile Crocodile gaping along the banks and if you're lucky elephants going down to drink. Overnight Pumba safari cottages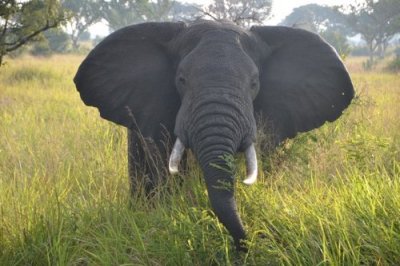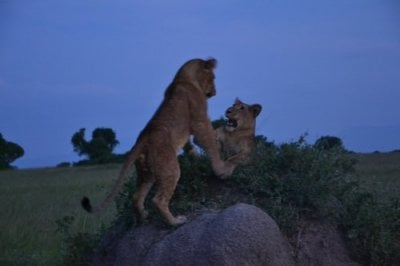 Day 3: Morning game-drive in Kasenyi area and village walk in the afternoon
Start your day with an early game-drive that exposes you to diverse animals. Big 5 members Elephants, Buffalos, big cats- Lions & Leopards, warthogs, Hunchback carnivals like Hyenas and many more species that are residents to this park are spotted along the circuits as we drive along. There is a rich bird life especially our version of storks in the wetland sports as we reach the flamingoes in the salt lakes. Head back to the lodge for lunch and in the afternoon when the temperatures have gone down a bit you head out on a village walk discovering the nearby village and crater lake. Overnight Pumba safari cottages
Day 4: Transfer back to Kampala
Have a relaxed breakfast soaking in the view and then start the drive back to Kampala. Take in the changing landscape along the road and make a stopover for lunch along the way. Arrive in Kampala/Entebbe in the afternoon.
- Possible to add on 2 more days to track gorillas as well.
If you're interested in booking this safari contact us at info@mamalandsafaris.com or take a look at Mamaland Safaris.
- See a 3 day Queen Elizabeth safari option
Bon voyage! 'In conservation we trust- Discover your travel dreams,